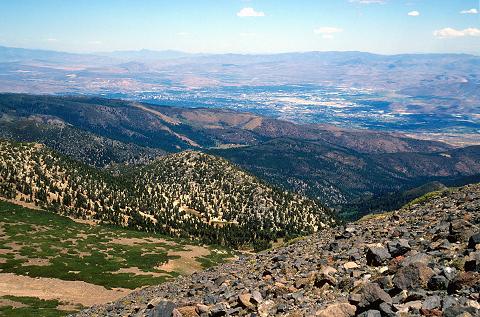 Reno, The Biggest Little City, and it's well known neighboring city of Sparks are both special and compelling destinations in Northern Nevada for anyone to visit or reside in year-round. Lake Tahoe, divided by the Nevada-California border, is a well-known and cherished destination to visit and live near as well. The Reno-Tahoe collective destination has a bounty of events, sights, sounds, tastes, and experiences anyone can and should incorporate into their travel or residential plans at some point in life. Here at St. James's Village we want you to enjoy living in Reno-Tahoe and invite visitors to experience our community lifestyle. The following is a curated description of all the amazing activities you can do in Reno-Tahoe, categorized by the four seasons of the year. Consider this your go-to guide and 365-day bucket list, from us to you!  
Summer (June – August):
Water Activities: 
Whitewater rafting

Boating

Paddle boarding

Surfing

Wild Island Waterpark in Sparks

Lake Tahoe beaches (Sand Harbor)

Truckee River
Fun Annual Outdoor Events That Bring The Community Together:
ArtTown

Rib Cook-Off

Hot August Nights

Burning Man

Food Truck Fridays in Reno-Sparks
Museums To Visit: 
Nevada Museum of Art

Discovery Museum (STEAM learning focused)

National Automobile Museum
Instagram-Worthy Photo Spots in Reno-Sparks:
Reno Arch

Believe Sign in City Plaza

Midtown & Downtown Murals

Last Chance Joe in Victorian Square

West Street Market
Instagram-Worthy Photo Spots at Lake Tahoe:
Monkey Rock

Sand Harbor

Tahoe East Shore Trail

Chimney Beach

Secret Cove (partially submerged boulders in the lake)

Emerald Bay
Fun Things To Do With Friends Or Solo:
Visit Reno-Sparks' many breweries and bars

Frozen yogurt shops

Summer Concert Venues

Cargo at Whitney Peak

Grand Sierra Resort Theatre

Reno Events Center

Nugget Events Center

The Glow Plaza 

Crystal Bay Club in Lake Tahoe
Autumn / Fall (September – November):
Classic Fall Festivities: 
Pumpkin patches and corn mazes – visit the Andelin Family Farm in Sparks and Ferrari Farms in Reno

The Ferrari Farms Fall Festival

Pumpkin Palooza (annual Halloween-themed fundraiser event benefiting the Northern Nevada Center for Independent Living to help Nevadans with disabilities live healthier and more fulfilling lives)
Uniquely Reno and Tahoe Events Held in the Fall:
The Reno Air Races

The Great Reno Balloon Race 

Lake Tahoe Shakespeare Festival (theatrical and cultural productions)

Nevada Day celebrations
Enjoyable Autumn Activities For A Variety of Tastes:
Hiking / Biking Trails

 Squaw Valley

Along the Truckee River

Incline Village Bike Path

Tahoe Rim Trail

Flume Trail

Galena Creek Regional Park
Fishing Locations

 Truckee River

Pyramid Lake
Seasonal Drinks & Treats at coffee shops, bars, and restaurants
Go "leaf peeping" where you can get some great photography of the Fall colors on foliage or stroll down a leaf filled path! Here are a few top locations:

Callahan Park (off Mt. Rose Highway in south Reno)

Around Lake Tahoe

The Tahoe Rim Trail

Reno Riverwalk District

Rancho San Rafael Regional Park (near the University of Nevada Reno)

Mayberry Park along the Truckee River
Skiing & Snowboarding: 
Did you know Reno-Tahoe boasts the highest concentration of world-class ski resorts in North America? Then there's Lake Tahoe, the largest and most developed skiing region in California and Nevada that is sometimes open year-round. Tahoe ski resorts have many benefits, with about 20 different resorts in the region with varying terrain and trails, making them exciting and something for everyone! 
Here are some of the best resorts to visit scattered throughout the Tahoe region: 
Heavenly

Homewood

Squaw Valley

Alpine Meadows

Boreal

Northstar

Sugar Bowl

Donner Ski Ranch

Soda Springs
Don't know how to ski or snowboard? Not to worry! Tahoe resorts offer lessons and rentals for a variety of learners. You can receive lessons from Mt. Rose Ski Tahoe, Northstar, Squaw & Alpine, and Tahoe Donner to name a few. 
Snowshoeing: (Essentially an enjoyable hike through deep snow in the heart of winter!)
Snowshoeing in the Reno-Tahoe area in the winter means you are treated to the gorgeous views of the snowy mountains while trekking through the snow-covered trails and trees. The valley and foothills tend to have less snowfall than the mountains, which means you might not always have to wear snowshoes for a winter hike. There are guided hikes and trails for visitors with different comfort levels. 
The following are some of the best places in Lake Tahoe to snowshoe:
Chickadee Ridge – located in the Tahoe Meadows if you hike along the Tahoe Rim Trail. Here you can observe and photograph the adorable and resilient chickadees, a small bird species living in this area. You may have heard that you can feed the chickadees here from your hand, but wildlife experts say you should not, as it can really harm the birds. The chickadees are very used to humans visiting here, and you can still extend your hand for them to land on and enjoy holding them for a little bit instead

Spooner Lake

Squaw Valley Resort

Northstar California Resort

Castle Peak at Donner Summit
Snowmobiling:
Described as a "thrilling backcountry adventure", snowmobiling lets you experience a high speed ride through beautiful snowy scenery around Lake Tahoe! There are tour options offered from Sierra Adventures and Mountain Lake Adventures, for any skill and comfort level. 
Dog Sledding:
An enjoyable winter activity for the whole family could be taking a dog sled tour through the winter wonderland that is the high Sierras! Sierra Husky Tours offers a 5 mile tour through the woods and along Lake Davis, just an hour north of Reno. You can pet the dogs and take pictures with them afterwards, perfect for dog lovers! 
Sleigh Rides:
Make your winter into the holiday season celebration you've dreamed of with sleigh rides around Reno-Tahoe! Go with friends or family and take in the endless, magical beauty of the Sierra Nevada winter wonderland! 
Ice Skating:
Ice skating can be a fun winter pastime you do with your family, and Lake Tahoe and Reno both have fantastic ice rinks to visit! Heavenly Village's open-air skating rink in South Lake Tahoe is open daily and available to rent for private events. The Grand Sierra ice rink in Reno is a must-visit resort: there is a heated pool, hot tubs, fire pits, full-service bar and menu of seasonal treats like s'mores and soup!  
New Year's Eve in Reno: 
Reno has some great restaurants and bars with NYE-worthy dishes and cocktails you can enjoy when out or from the comfort of your home! Wild River Grille offers a 3-course dinner to-go with champagne during the holidays, or you can get classic favorites like pizza or tacos from many great venues in the Biggest Little City. Top it off with sweet treats from some of the best Reno bakeries: Perenn, Haven on Earth (which is entirely gluten-free), and Batch Cupcakery, to name a few. The Reno Public House in Midtown has you covered when it comes to NYE drinks, along with Seven Troughs Speakeasy, and Record Street Brewing Co. 
Nightclubs:

LEX Nightclub: Located in the Grand Sierra Resort, it's considered the premier nightclub of Northern Nevada. Includes bars, VIP tables, and deluxe amenities

Brew Brothers: In the Eldorado Resort, they double as a restaurant and nightclub with live music and DJs nightly

Novi Lounge: Also in the Eldorado, they offer line dancing lessons from 9p-12a to a whole variety of live music genres
Firework displays in Reno occur on casino and resort rooftops, including from the Nugget, Silver Legacy, Harrah's, Grand Sierra Resort, Peppermill Hotel Casino, and Eldorado Hotel Casino. All of these venues can also have their own special New Year's Eve celebrations. Visit their websites to find out more! 
Spring (March – May):
Top Golf Courses: 
The Montreux Golf Club

 Hosts the Barracuda Championship located in Reno

Edgewood Tahoe 

Located in Gardnerville, NV combining the benefits of a world-class destination that is Lake Tahoe with a serene lakeside golf course 

Red Hawk Golf and Resort

Located in Sparks NV, Red Hawk offers individual and group golf lessons from their award winning PGA staff! 

There is a signature hole completely over water named "Hawk's Challenge"
In Full Bloom:
Flowers and trees are blooming around the Reno-Tahoe and Sparks region this time of year, and there are several places where one can take a stroll to observe the beauty of colors and variety in Spring! 
Reno Riverwalk District

Since 1990 the Riverwalk has celebrated Reno's scenic downtown river corridor, which today has become a must-visit to immerse oneself in Reno's arts, culture, and heritage. It's described as a medley of shops, bistros, bars, lodging, entertainment venues, and a whitewater park. You won't run out of things to do at The Riverwalk District, and there's something for everyone, and it's especially a great time to visit during the pleasant climate of Springtime! 

 

To enjoy wildflowers and waterfalls in Tahoe, you can visit Tahoe Meadows near Mount Rose, and Lake Forest Beach in Tahoe City. The Mount Rose Trail has both!
Patio Dining:
The following are some of the best Reno restaurants with outdoor seating, which is recommended that you take advantage of during Spring:
The Stone House Cafe

An old house converted to a restaurant, The Stone House has outdoor seating in a tall, full garden. Open for all three meals of the day, with an ever-changing menu, featuring favorites like French Toast and Fish and Chips
The Twisted Fork

In South Reno with a patio featuring backyard lights and views of Mt. Rose
Centro Bar & Kitchen

In Midtown featuring an exciting variety of drinks and tapas-style appetizers 
Wild River Grille

The patio sits right next to the Truckee River and along the Reno Riverwalk. Live music can be featured and the patio is dog-friendly!
Reno Aces Games: 
The Biggest Little City's Minor League Baseball team, The Reno Aces, kick off their season in the Spring at the Greater Nevada Field near downtown. Fans of all ages will enjoy them, topped with unique events and promotions such as Star Wars Night and Fireworks Friday! 
You can find more details and get inspired and excited by previously submitted photos at https://www.visitrenotahoe.com
Why St. James's Village
St. James's Village is a private Reno and Lake Tahoe gated community with custom homes. All streets are privately owned and maintained by the Homeowner's Association, and the bordering Toiyabe National Forest and Mount Rose Wilderness protects the community from any outside development. We describe the St. James's lifestyle as private, serene, and elegant which you will see for yourself when you enter our master-planned community built on over 1600 acres of pristine land. The five different neighborhoods in St. James's Village are designed for those who have a passion for outdoor living, with quick access to the new Interstate 580 Freeway. The CC&Rs of St. James's HOA serve to protect your investment with us for a lifetime. The Association has financial reserves adequate to cover all replacement items within the community. St. James's Village offers a high quality of life due to the combination of refined city life and private country elegance in this master-planned community. 
Reno-Tahoe is growing with so many of the benefits we introduced you to today, making the region a promising place to reside. St. James's Village invites you to explore and settle down in our lovely community, and have exclusive access to the beauty and pleasure the Reno-Tahoe area offers to all! Visit us at https://stjv.net or get in contact with our broker, Bryan Drakulich, at (775)-846-8585 for any questions you may have. Consider St. James's Village as your new ideal housing community today!